RIP

Memoriam thread?
Posted 2021-November-27, 10:08
Stephen Sondheim. Is a link necessary?

---
Posted 2021-November-27, 10:40
Absolutely right, no link is necessary. 91 very good years.

Ken
---
Posted 2021-December-06, 08:02
Susan Rosenblatt
, who with her husband and law partner, Stanley Rosenblatt, took on Big Tobacco in a Florida case that seemed an absurd mismatch for their small firm, but that resulted in a record $144.8 billion jury award in favor of people sickened by cigarettes.
If you lose all hope, you can always find it again -- Richard Ford in The Sportswriter
---
Posted 2021-December-07, 09:28
Fred Hiatt
, longtime leader of The Washington Post's opinion section.
If you lose all hope, you can always find it again -- Richard Ford in The Sportswriter
---
Posted 2021-December-15, 07:35
Dr. Margaret Giannini
, a pioneer in treating developmental and physical disabilities.
Quote
She received scores of honors and awards throughout her life before retiring from federal service in 2009 at age 88. But she never really stopped working. A week before she died, she was pressing Congress to establish a federal holiday for people with disabilities.
If you lose all hope, you can always find it again -- Richard Ford in The Sportswriter
---
Posted 2021-December-23, 16:13
Joan Didion. 23 Dec 2021 age 87.
Her time come round at last.
Slouching towards Bethlehem.

non est deus ex machina; även maskiner behöver lite kärlek,
J'ai toujours misé sur l'étrange gentillesse des robots.
---
Posted 2021-December-27, 15:29
---
Posted 2022-January-11, 10:37
David Sassoli:
protection declaration.
Advertisement
NEWS
European Parliament President David Sassoli dies after hospitalization
The 65-year-old had been seriously ill in hospital for more than two weeks. He died at a hospital in Aviano in northern Italy.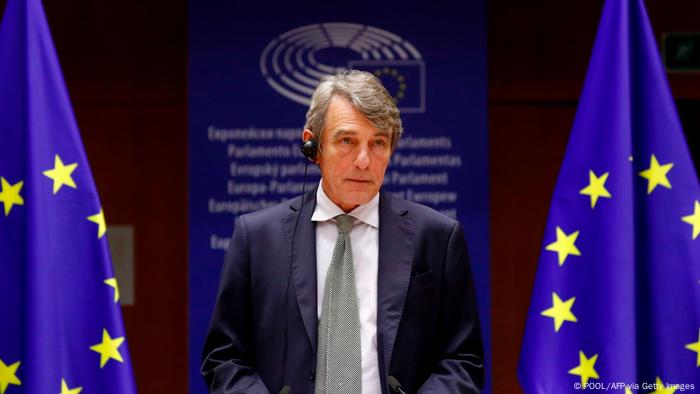 Sassoli had spent more than two weeks in hospital
The president of the European Parliament David Sassoli has died, his office announced early on Tuesday morning.

He passed away after a "serious complication" related to his immune system.

"The president of the European Parliament, David Sassoli, passed away at 1.15 a.m. on January 11 at the hospital in Aviano, Italy," his spokesman, Roberto Cuillo said on Twitter.

"The date and place of the funeral will be communicated in the next few hours," he added.

On Monday, the EU parliament confirmed he had been admitted to hospital in Italy on December 26.

In September 2021, during a plenary session of the parliament, the 65-year-old came down with a bad case of pneumonia.

He was married with two children.


Tributes to David Sassoli
Tributes soon poured in for Sassoli, an Italian social democrat.

German Chancellor Olaf Scholz lamented his loss, saying "Europe has lost a dedicated parliament president, Italy a shrewd politician, and Germany a good friend."

Germany's Foreign Minister Annalena Baerbock praised Sassoli for "always
succeeding in bridging divides."

She wrote on Twitter that "we will not forget his commitment to dealing humanely with
refugees,"



EU Council President Charles Michel called the fellow politician a "sincere and passionate European. We already miss his human warmth, his generosity, his friendliness and his smile.''

President of the Euopean Commission Ursula von der Leyen said she was "deeply saddened by the terrible loss of a great European and proud Italian." In a post on Twitter, she described Sassoli as a "compassionate journalist, an outstanding President of the European Parliament and a dear friend."

"What a big shock and a big loss. I am deeply saddened. He left us too early. My condolences to his family! Dear David, Rest In Peace," tweeted German MEP Ismail Ertug.

Another MEP, Italian Paolo Borchia, said he was "stunned" by the news as it was so "sudden."

A former journalist, Sassoli was first elected as a member of the European Parliament in 2009. He won another term in 2014 and served as the Parliament's vice-president.

He then became president of the 705-seat legislature in 2019.

The parliament sits for a five-year term between elections, but the president of the body serves for half that time, and Sassoli had indicated he would not seek reelection.

jsi/aw (EFE, dpa, AFP, Reuters)


---
Posted 2022-January-12, 17:59
Ronnie Spector, be my baby now.
"
Injustice anywhere is a threat to justice everywhere." Black Lives Matter.
---
Share this topic:
---
4 User(s) are reading this topic

0 members, 4 guests, 0 anonymous users